I'm here to show you that with good communication, you can achieve all your personal and professional goals. Everyone can learn to communicate confidently, clearly and with excitement, regardless of whether you believe it at the moment or not. Do you accept the challenge? 😉
Years of developing and delivering workshops
Let me tell you more about the real me
(watch this video)
I've always loved meeting people, I'm interested in their stories, their emotions and their opinions; I love to talk, communicate and discover.
Each and every one of us is a treasure trove of knowledge and experience, and I believe we can all learn from one another. I frequently attend seminars and workshops held by different individuals because of this.
What I have discovered, however, is that the way some chose to share their knowledge and experience is frequently not the most suitable; they leave their audience bored and uninterested, even though their topics are important!
Throughout my years of working in communication, I have proactively developed the skills and knowledge to efficiently transfer information, and am happy to help you with this.
My mission is conducting workshops and educating on how to transfer knowledge and skills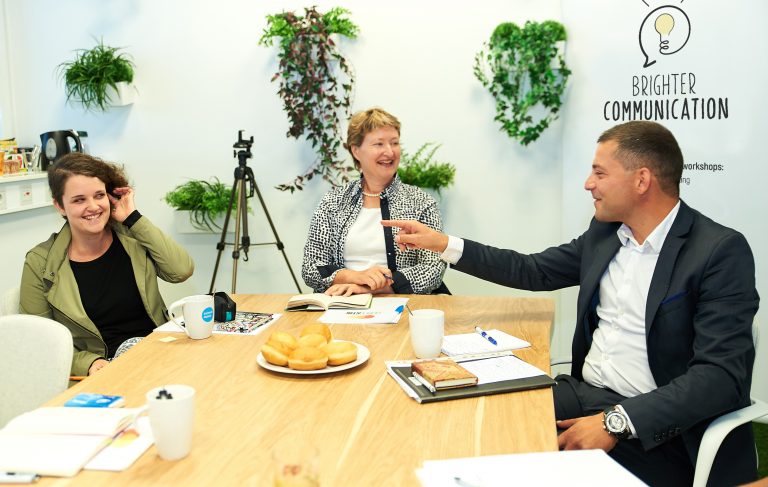 This is a project I am truly proud of.
It all started with the simple wish to empower participants to speak publicly to groups of one hundred and, as you know, practice makes perfect :).
So, I immediately began developing the project. Besides practicing public speaking together, the project aimed to facilitate the creation of a group of people who love to learn from one another and connect: I am a passionate advocate of networking and connecting.
Through numerous activities, participants socialized and formed good connections. Each event was also enriched by a number of up-and-coming musicians, including a pianist, violinist and guitarist,  and fine food.
The last event was unfortunately postponed due to the coronavirus outbreak, but it will take place as soon as the situation allows. If you would like to join us, sign up for our newsletter and be the first to know when the new date is set.
From large to small companies, sole proprietors and individuals, if you want to improve communication, be an excellent public speaker, talk to people with confidence, express your opinions and share knowledge, I am happy to help!
I will help get your messages across and inspire your audience with proven approaches.
I hold educational lectures and courses for individuals.
I also collaborate with companies where, together with my team, I prepare workshops on various topics.
THE WAY I WORK AND WHAT TO EXPECT
My work is based on psychology, particularly the psychology of learning, and individually tailored; it's about working with small groups because small group learning works better; it's inclusive, interactive and collaborative, and addresses pertinent questions. The only way new techniques benefit are if participants come up with the answers themselves.
I use physical and online role-playing exercises, other learning activities, inspirational videos, and draw on my extensive personal experience.
WHO AM I AND WHAT I DO IN MY PERSONAL LIFE
It is easier to learn and accept new knowledge when we are relaxed and have a smile on our face, when we let ourselves be who we truly are. It is difficult to improve communication in only one area, be it at work or in our private lives, because both aspects are intertwined. This is also why I want to share with you some details about myself, so we can get to know each other better. I believe that by doing so, we overcome reservations, relax and effectively cooperation.
That's enough about me; it's time for me to get to know you. Are you in? 🙂
Do you have a question or do you need additional information? Get in touch with me!
I'd love to hear from you! 🙂